CONTENTS

Registered Herbicides

[Return to weed Identification]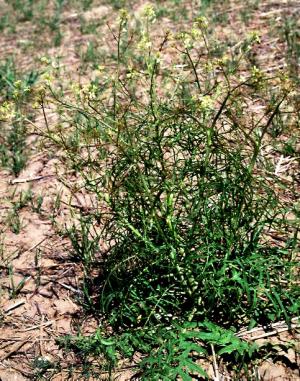 General Description:
2 to 5 feet tall.
Simple stems below, much branched above having bushy appearance.
Leaves alternate and of 2 types; lower leaves are coarse and divided into broad lobes or leaflets.
Upper leaves are much reduced, finer with narrow lobes or segments.
Flowers are small, pale yellow, in racemes.
Fruit is a slender 2-valved capsule 2 to 4 inches long.
Seeds are small, numerous, yellow to brown, and oblong.
Life cycle:
Habitat/ Distribution/ Crops associated with:
European native.
Widely scattered throughout the U.S.
Common in small grain fields, rangelands, waste areas, and along roadsides.
Plant often breaks off at the soil level at maturity and scatters seed as it tumbles in the wind.
Herbicide Control Notes:
Early application of Goal, Karmex/Direx, or Sinbar provides effective control. Add Gramoxone to residual herbicides if rosette is well established.