CONTENTS

Registered Herbicides

[Return to weed Identification]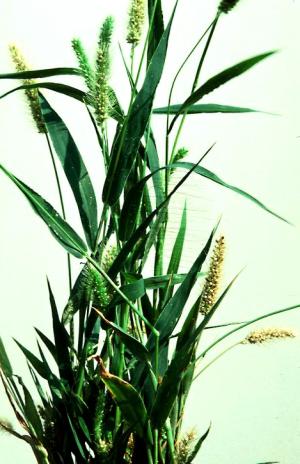 General Description:
Green foxtail is a summer annual introduced from Europe. It reproduces by seeds, which it produces in great abundance. This weed grows rapidly in mint fields during hot conditions and can produce seed in less than 40 days. This grass forms clumps up to 3 feet in height. Rough leaves are rolled in bud and have hairs only on the lower margin. Hairy ligule. The panicle is dense, 1 to 3 inches long, erect except near tip which is slightly bending. One to three bristles below each spikelet. Seedhead is "fox-tail"-like and pale green. Seeds are green, about 1/16 inch long.
Impact on Yield:
High foxtail population numbers are necessary to cause severe reductions in mint oil yield.
A green foxtail infestation of 37 plants per square foot has been shown to cause a 48% reduction in peppermint oil yield (Ian Heap).
Herbicide Control Notes:
Usually emerges too late for control with Gramoxone.