CONTENTS

Registered Herbicides

[Return to weed Identification]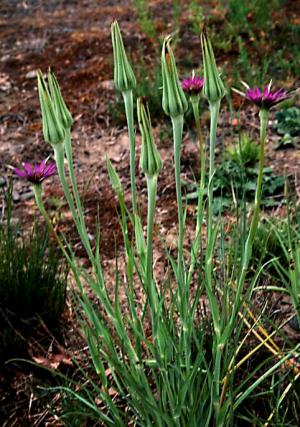 General Description:
Generally 1 to 3 feet tall, more or less branched, arising from a long taproot.
Herbage has a milky juice.
Some pubescence occurs when young, but it is frequently glabrous at maturity.
Leaves are narrow, up to 12 inches long, gradually tapering from the base to the apex.
Flower heads occur at the end of long, hollow peduncles.
Involucral bracts, usually about 13, 1 to 2 inches long at anthesis.
Bracts distinctly surpass the pale, lemon-yellow ray flowers .
Life cycle:
Habitat/ Distribution/ Crops associated with:
Native to Eurasia, but well established over temperate N. America.
Occurs along roadsides and waste sites.
Same as Western salsify, but has purple flowers.
Herbicide Control Notes:
Gramoxone plus Goal applied in late fall is effective.